Shearling coat you googled it and we will give you the best selection of shearling coats women on sale
Shearling coat, or rather the piece that together with fur ensures style and warmth during the winter. (This post is written by Lady Fur and welovefur fashion editors)
The shearling coat: symbol of the '70s, amongst the most sought-after cult outerwear of the moment. Definitely more casual than a sable fur or similar, the technique is also very different, as are the materials.
In English Shearling refers to the short or medium length sheepskin jacket with shaved hair inside. In the last years it has returned to the catwalks of experienced stylists: Acne's sheepskin or that of Burberry or Maison Margiela are famous, but all brands have gone wild and reinvented it in all colours and shapes.
Men's and women's shearling coats: a seventies love story
But outerwear in leather and fur has been popular since last century:  shearling coats was in fact a must of the'70s and '80s.
The Shearling is unisex: both men and women wore a shearling, also commonly known as the aviator jacket for shorter and sportier models, like the bomber or leather biker.
How is the shearling coat made?
It takes its name from the fact that it is made from the male sheep, the lamb before shearing.
The external part of the jacket is in general suede, or smooth leather in contrast for some models and inside instead there is the warm fur, shaved for the masculine and sporty models, long-haired for the long feminine ones.
As in fur obviously there are different factors and different models to take into consideration if you want to invest in a beautiful sheepskin for the winter.
Characteristic of the most classic models is certainly the maxi collar and the cuffs that give a glimpse of the inner fur.
The colors of sheepskin? Generally creams and natural colors. Caramel, cappuccino, Sienna, sometimes olive green. (Read below what Lady Fur thinks about Shearling coats) 
Recently stylists have gone wild with vivid colors, contrasting inside and out, metallic, but the real revolution, although it may seem strange, is the black sheepskin.
Yes, black both on the outside and of the hair within.
Shearling coat women's jacket: the price?

What is the price of a good shearling coat? Over 1.000 euro, even if thanks to discounts you could buy one online for around 600 euros.
A high fashion shearling coat, above all a longer one, can reach even quite high figures: 4.000/5.000 euros.
Amongst the most sought-after is the oversize one by Acne, loved by all the celebrities. For one of these lines the price obviously goes up to about 2.000/3.000 euros. Check out for example that of Giovanna Battaglia, which is classic and modern at the same time, low-waisted with belt.
Here are the Acne shearling coat models or very similar pieces. Click here to buy directly on line.


Vintage shearling coats 
Lately it has been easy to spot many in vintage shops, but when you buy a vintage shearling coat, keep these factors in mind: if the outer leather is stained or scratched, if the hair inside is still in good condition or not. In the case of stains you just have to take it to a dry cleaner's specialized in leather, but you should know that having them cleaned is not at all cheap, it could end up costing you as much as you paid for it.
For scratches there is obviously nothing you can do.
Keep in mind that vintage sheepskin jackets are more squared and oversized, so they may not flatter your figure.
Instead if you are looking for a new sheepskin check out the models below and click on the images to go directly to the online shop.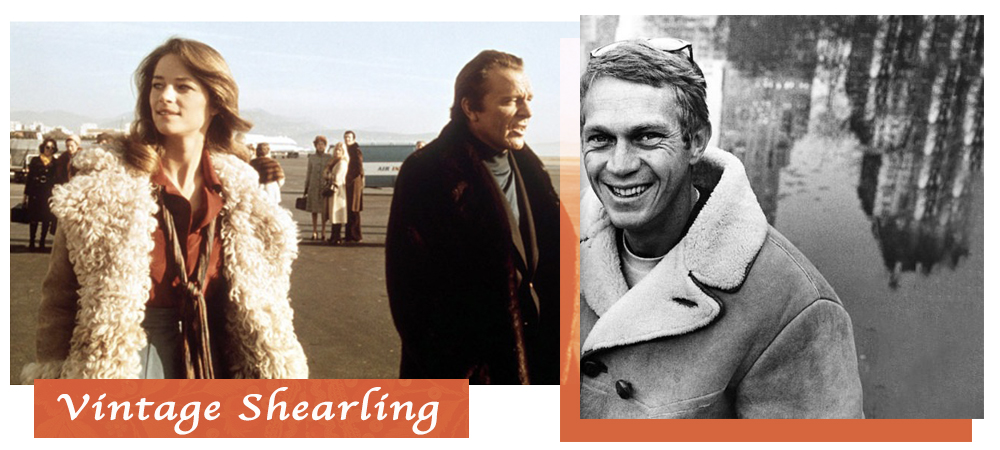 Shearling coats for sales online
It's often worth buying a women's shearling coat online: you don't have to wait for the winter sales to find some good deals and the variety is spectacular.
Classic, long, robe, with contrasting fur /suede, metal.
Check out my selection below to see the variety for yourself. 




Reproducing a seventies look with the sheepskin is really easy: it just takes a pair of flared jeans or wide-legged trousers and there you have it.
But it also lends itself well to revisiting with a more bon ton and very simple look.
The shearling coat also goes well with dresses with floral patterns and unmissable riding boots.
Here are some ideas for matching the winter sheepskin to be elegant and always warm.
Hiso shearling coat wore by Lady Fur 
Hiso is one of Lady Fur 's favorite brands for women's and men's shearling coats.
Lady Fur: I discovered the brand Hiso in Chicago last year at the fair Chicago Iloe. Hiso is specialized in shearling coat for men and women.
I thought the shearling coat was men's fur.
If I think of sheepskin I think of Gianni Agnelli.  Icon of style.The Lawyer wore a Cognac color sheepskin with white cashmere jumper.
I fell in love with the denim color one that you see in the photo. The shearling coat keeps you very warm, more than a mink.
Spain is famous for sheepskins and for shearling coats jackets. Today's shearling coats are beautiful, you can find them inlaid, embroidered, with mink or fox fur.
The photo was shot by Ekaterina  in Milan.
Shearling coats for men
Find our best selection of shearling coats for men.

welovefur =)