Charlotte Casiraghi style of a modern princess: who can you take inspiration from if not her?
The Charlotte Casiraghi style, the princess always hits the nail on the head, no doubt about it.
The Charlotte Casiraghi news is that although she recently turned 30 – her  birthday is in fact August 3 – Princess Charlottte of Monaco has already given us countless lessons in style.
Naturally, as her grandmother was Grace Kelly, and she reminds us of her a lot, above all when Charlotte Casiraghi style icon wears furs.
At the moment Charlotte princess is also a very happy mother: she has a three year old boy, a second on the way, an Italian husband (Charlotte in fact lives in Rome). Fashion is always at her side, Gucci above all: over the years she has endorsed a line dedicated to horse riding – her great passion – and for  beauty.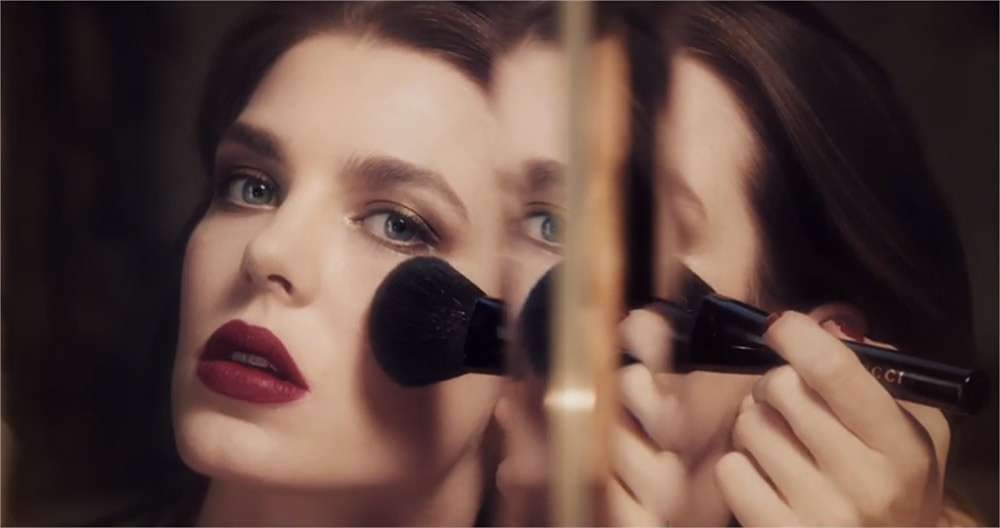 Her 30th birthday was also for many an occasion to retrace Charlotte Casiraghi best looks, the history of such a  refined style,  also in terms of leather and fur.
Charlotte Casiraghi looks and photos to imitate
Charlotte Casiraghi style fashion is quite defined: some would say French: above all in the casual looks, but I would say spontaneous with traces of  boho chic. Why not take inspiration from Charlotte Casiraghi street style for everyday or even for your own birthday?
For example for the day a brown leather or black material jacket is enough. She looks chic even with a biker jacket and as for Charlotte Casiraghi hairstyles, a messy bun.

Princess Charlotte clothes brands for casual everyday include the classic and elegant style of Brooks Brothers.
Fra i suoi brand preferiti più casual da tutti i giorni Brooks Brothers, stile classico ed elegant.
The most elegant Charlotte Casiraghi style clothes
In photos  Charlotte Casiraghi style is always smiling simple, completely at ease with everything she wears, even on the most important occasions.
Personally I have always loved the Gucci 70s dress worn for her brother's wedding with Beatrice Borromeo (below left).
Over the years many of the events of the Principality of Monaco have become for her a real stage where she can constantly redefine her  elegance.
For example maybe you know the legendary Bal de La Rose, held every year since 1954 at the Montecarlo Sporting Club: here every time all eyes are on the Charlotte Casiraghi style..
Here below left is a dress  flaunted in  2015 signed Chanel.
You will have noticed that the princess prefers the most iconic fashion houses: Gucci and Chanel.
On important occasions Charlotte Casiraghi style is always signed by these two houses. During the  Met Gala 2016, the annual  gala held in  New York to raise funds for the Metropolitan Museum, the  Charlotte Casiraghi new look was a sensational Gucci dress, that not everyone could wear, but that fitted her like a glove.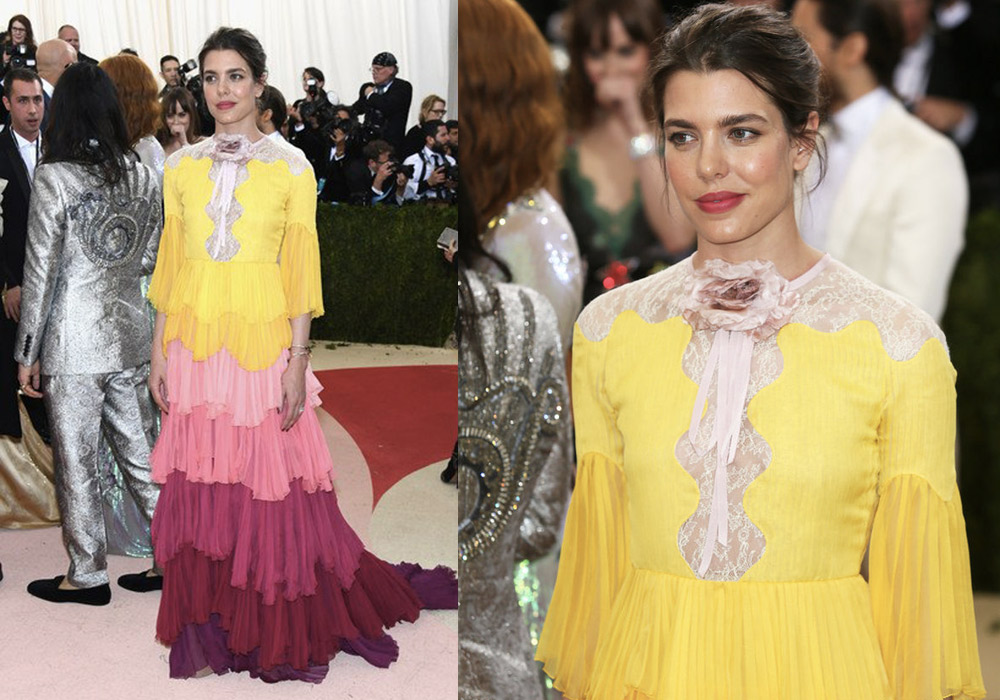 What are the strengths of the Charlotte Casiraghi look? And what can we take from her style to copy for a birthday or dinner?

Freshness, apparent simplicity and iconic pieces that marry her young dateless well, she doesn't take herself too seriously. In these pieces that maybe characterise the Charlotte Casiraghi look 2016 best are those designed by Frida Giannino, that have always played with the classical and colours.
Equestrian look and jewels 
Her rider looks are also perfect, to replicate with high leather boots and Bon ton blouses.
For accessories in leather refer to one of Charlotte's favourite brands: the very Italian  Tod's.
And even Charlotte's taste for jewels is impeccable: few pieces, preferably super elegant white gold or diamonds, that go perfectly with her classic features.  Her rider looks are also perfect, to replicate with high leather boots and Bon ton blouses. For accessories in leather refer to one of Charlotte's favourite brands: the very Italian  Tod's.

Cartier jewels are her favourite.  But there are many other pieces and houses to be inspired by.


And you? Which Charlotte Casiraghi style inspires you? Tell me in the comment!