Where to buy furs in London? Here it is the list of shops that I suggest for shopping in London.
Where to buy furs in London : many ask themselves where to find good fur fashion in the British capital city. Obviously London has great surprises for the lovers of mink, sable, stoles, Tsarina hats, accessories and more.
London is for sure a very important destination for luxury shopping: here you will find all the boutiques of big designers and brands. But as you well know the alternative vein from this British capital city is still palpitating in a strong way. We must not forget that in London there are good vintage bargains, also for furs.
Shopping in London: where to buy furs
Lets start saying that to buy fur fashion in London you must not go far away from the center of the British capital. The most famous department stores are great places to find furs and luxury clothes, also the stores, from which we will talk in a second to but your favorite garment you must go towards Bond Street – the well-known street to find designer boutiques – without leaving behind Dover Street Market, a very interesting place also fo getting a coffee.
Another street not to be underestimated and where you can find furs is Mayfair: here you also will find designer boutiques, such as Marc Jacobs, Balenciaga. Beauty shops and classical British brands are also to be found here.
For luxury shopping – the real kind – don't forget to go in the direction of Sloane Street in Chelsea: here you will difficultly remain with your mouth closed.
In between the boutiques of Dolce & Gabbana, Tom For, Chanel, Bottega Veneta, Miu Miu and genuinely the mecca for furs : Fendi.
If you decide to spend a journey at Sloane Street I recommend to have a tea break in the Mandarin Oriental, in The Rosebery Lounge.
If you have little time for shopping and besides fur fashion you desire to buy accessories and dresses, a sure spot is Liberty London, famous for having everything you are looking for in one big space. The garment selection here in general is really good, very up to date with the seasonal trends and the in designers of the moment. Liberty London is a beautiful historical building, in the center of the capital city.
London, furthermore, is the city to go to for vintage fur shopping:
if you do not like modern fur fashion or you are looking for a determined model, you should listen to the tips to buy a retro piece.
These are the general tips to buy furs in London, their address and a little preview of the stores.
Hockley London
A must go place, most certainly is Hockley: their flagship is in the center near to Piccadilly Circus. They also have an online shop, where you can have a look to prepare yourself and control if their designs are for you.
This place is to buy the classic fur coats, fur jackets, fur vests, sports vests, fur hats and other accessories. The shapes and cuts from the furs are always very contemporary and have fabulous colours. The prices? Good.
Hockley
20 Conduit Street
Londra
Closed on Sunday
Harrods
I am sure that you are no stranger to this name for buying furs in London, but anyhow it must be mentioned: in Harrods you will find fur and they have a wide selection. Here you will find the most famous designers such as Michael Kors, Phillip Lim, Elie Tahari, Escada, Alexander McQueen and also garments from the brands Harrods that in general have pretty interesting prices.
If you don't find the fur coats you have been looking for, you can find other services such as hair styling, beauty parlous, shipping companies, etc.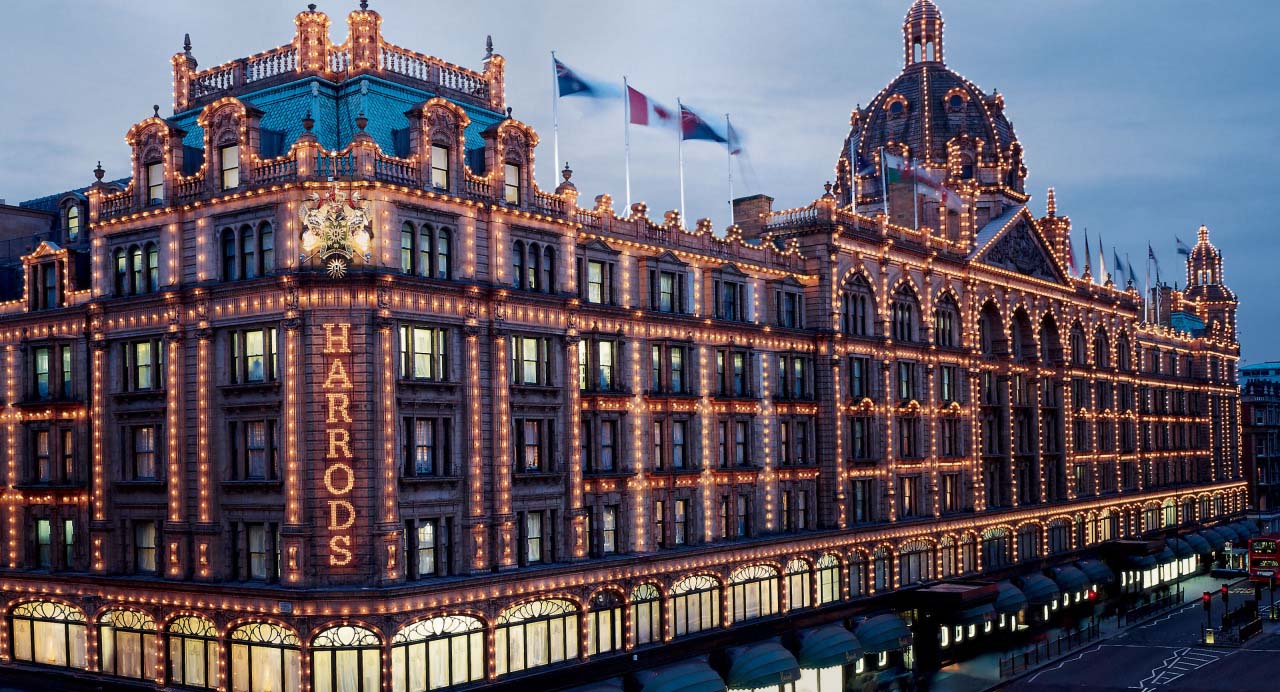 Ps. If you go to London for Christmas don't miss their astonishing show windows. Harrods is known worldwide for this.
Harrods
87-135 Brompton Rd
Londra
Open everyday
Selfridges & Co
We are still on the London department stores. Here you will find some of the big brands at more accessible prices. Interesting fur accessories like those by Helen Moore to Dries Van Noten.
Selfridges
400 Oxford St
Londra
Open everyday
Noble Furs
Looking for a place to buy classical fur coats in London? Noble Furs of Regent Street is the place you are looking for, a historical shop for furs. If you are one of those who think that furs will always have timeless cuts, and you cant wait to try on fur hats don't forget to visit this place.
Noble Furs 
66 Wells Street, Fiztrovia
Londra
Sundays closed
Harvey Nichols
Harvey Nichols is the destination for those who are looking for international brands, British, French and Italian. In between an accessorie and a Balmain dress you will find furs and fur stole.
The selection of fur accessories is really interesting and you can also just spend time there.
Harvey Nichols
109-125 Knightsbridge
Londra
Aperto tutti i giorni
Vintage furs in London
And as always if you are passionate about vintage furs or furs that already tell a story, you should visit the flea market and vintage shops.
The mecca for the vintage furs in London is for sure Hilary Proctor in Portobello Road: hundreds of pieces, precious, well kept.
Without any doubt here you can do much, rely o Hilary and its staff to discover the garments that suits you the most. So many models from the 80s with prices that sway around 500 pounds and up (a little tip: keep an eye on the sales section).
Hilary Proctor
141 Portobello Road
Londra
Another must-go address for vintage shopping in London is Rellik. Here your eyes will shine between the deco jewellery, the dive sun glasses from the 50s and obviously vintage furs.
Collectors who arrive to London always pass by Rellik to find the most beautiful garments by Christian Dior, Chanel, Vivienne Westwood – and that seem they just came out of a time machine.
You wont have the greatest deals but you can be sure that what you buy is what you get.
Rellik
8 Golborne Road
Londra
Closed Sunday and Monday
In London another famous locations is Annie's Camden, where besides dresses and other accessories you will find splendid fur fashion, many times very well kept.
Angel
12 Camden Passage
Londra
Do little markets attract you? here we have some for you: For furs try going on Monday to the Covent Garden Jubilee Market, where you'll make some good purchases. You will find antiquities, jewellery and clearly fur coats, if you get lucky some fine furs.
Jubilee Market
1 Tavistock Court
Londra
Every Monday from 5am to 17:00