Pretty Woman Style at the Copenhagen Fashion Week
Pretty Woman Style. The outfit I am wearing in the photos reminds me of one of my favourite films: Pretty Woman with Julia Roberts. Pretty Woman is one of the few films that transforms prostitution into a sort of romantic fairy tale and, despite its vaguely unbelievable story, is certainly destined to remai n one of the most memorable Julia Roberts films.
The scene of her revenge when after having been shopping she returns to the boutique where the sales assistant had refused to serve her and says the words "Big mistake. Big. Huge." DRIVES ME CRAZY!
The boots I am wearing in the photo are very similar to Vivian's iconic 90s style outfit.
Here below is Julia Roberts, Vivian with patent boots. Pretty Woman Style
Now I will move on from Pretty Woman Style and Vivian's 90s style boots and I will tell you what I did in Copnehagen from the 1st to the 6th of February
In Copenhagen I presented the Copenhagen Fashion Week for the fashion magazine Elle Italia, and we will publish the video in a few days. The focus will be on fur.
With Kopenhagen Fur, that I like to call "my fur family" I made a beautiful video of the show that inaugurated the Copenhagen Fashion Week Imagine Talents by Kopenhagen Fur
There were five days full of emotion, special meetings, discoveries and much more. <3
I will start telling you about the first day of the Copenhagen Fashion Week where I dressed inspired by Pretty Woman: a fur by Vladimiro Gioia, an egg yolk coloured skirt like some of the inlays of mink fur, patent boots above the kneee and bracelets in gold and diamnods made expecially for fashion week.
I must confess that at the beginning I was not sure I wanted to wear latex boots with fur and such a waisted skirt. I was afraid the skirt was a bit too strong, too much Pretty Woman style at the beginning of the film when she was still in the prostitute phase, but in the end I liked the result very much because I think I was able to make a rather chic Pretty Woman.
The fur coat I am wearing is by Vladimiro Gioia and it is entirely in mink inlaid Chevron (I have done a post about this Chevron inlay, click here if you haven't read it). The dominant colour is egg yolk yellow (it's a colour that has always made me vomit but matched in this way I'm crazy about it) only Vladimiro can make me change my mind so quickly.
The bracelets are not normal bracelets but works of art. After my experience in Qatar, a whole new world has opened up to me. The world of jewels. EXTREME LUXURY. My Arab friends love jewels, precious stones, gold and silver. In Doha they showed me things that not everyone has the possibity to see. When I returned to Milan I met the founders of OPERA Italian Attitude the first and only site that proposes luxury jewels made in Italy. Bracelet: SHIRA by Shira Ghaffari
I did a post with the butterfly ring in gold and diamonds by Busatti Milano on OPERA Italian Attitude. For the fashion week I had these two bracelets personalized. The bracelets that you see in the photos have a gold clasp with real diamonds. I opted for the clasp with orange dimaonds and a pink diamond because for the fashion weeks I will wear furs in these colours.
Differently from the butterfly ring these bracelets can be worn every day. In fact I shot them several times in the photos. I love wearing jewels with furs, for me a fur without jewels or precious stones is not complete.
The patent boots are by a brand that I am VERY fond of: Strategia. When I opened the blog I bought Strategia boots in textured leaher on Yoox. Strategia still didn't have an online shop: Today, not only do they have a great online shop but they have also opened a single nrand shop in the centre of Milan. It is beautiful to see businesses grow. The latex- patent boots go really well with fur because they enhance the hair..
The skirt is by Mauro Grifoni, it is high waisted with buttons in front and on the split behind. It fits very well despite the fact that the egg yolk yellow colour tends to widen a little.
The fur keychain is a new furry friends by Oh! by Kopenhagen Fur but I will talk more about this brand later.
I took the photos in one of the most famous bars in Copenhagen: Mormors.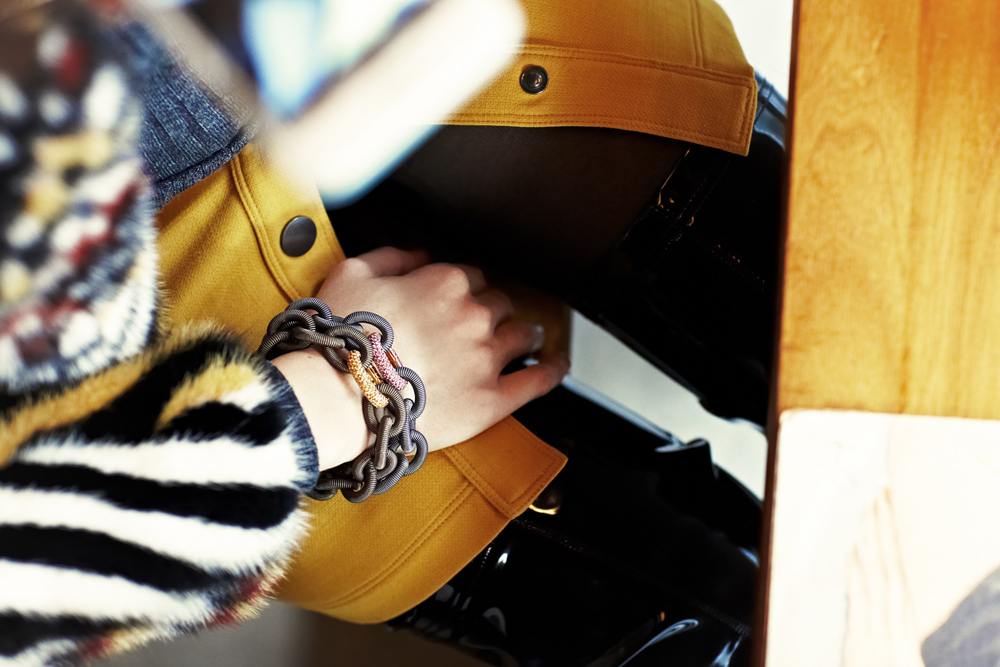 Luxury bracelet SHIRA by Shira Gaffari in gold and diamonds OPERA Italian Attitude
Vladimiro Gioia Fur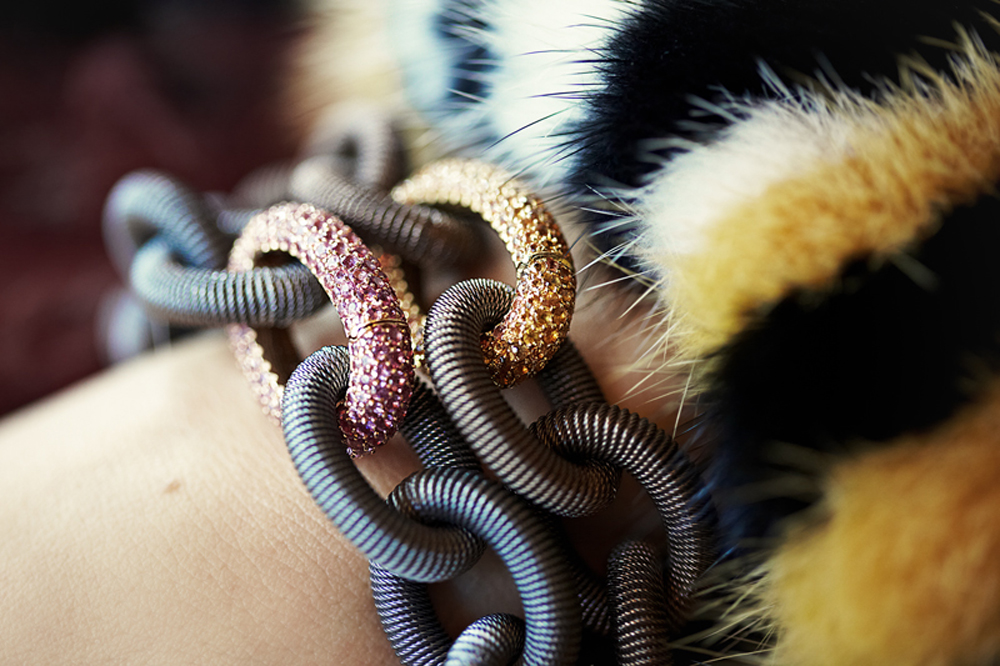 Photo: Jana Anhalt
Don't miss Copenhagen Fashion week 2014 , Copenhagen Fashion Week 2015 and all post did in Copenhagen