Fur vest how to wear it a giant question for all womens who loves fashion including me.
Lucky working with Lady Fur the queen of fur style today I'm able to transmit you watch I learned from her.
A fur vest is both elegant and versatile, easy and chic, but knowing how to wear a fur vest is the key question.
Surfing on welovefur blog I found all photos of fur vests wore by Lady Fur from 2012 to 2015. She changed looks many times (MANY) she passed from cat girl, to serious entrepreneur, from blonde to brown to black and blonde again and brow she is super creative mind so let's see which will be the next look. Hoverer my favorite look is the last one where she wears the chinchilla fur vest. (fur vest photos of 2015)
If you need to add a bit of spicy to an outfit, wear a fur vest is the solution: you will suddenly feel sexier and more stilish than ever. Is the typical add that help me to feel shining in the mirror, while a minute before I felt sad and annoyed by my image. Try it 🙂
How to wear a fur vest in a casual chic outfit
If you feel like causal and the most challenging piece of wardrobe you want to wear are a t-shirt and your favourite jeans, add a vest in fox, mink or sable at the top of it can change your day. A fur vest adds instant glamour to a casual outfit. For example Lady Fur in Beijing during a business meeting she wore a fur vest in chinchilla and crocodile with a normal basic pant and black knitwear.
A fur vest is lighter than a fur coat: it has no sleeves, so you can wear it both during Springs than Autumn. A vest is also perfect for a walk in the country, a cinema with friends or an happy hour. Fur is always a good choise.
For example, i wore a fur vest on Friday night. The initial plan was an easy pizza, while suddenly we ended up to an hunter lovers house (really luxury house rich of furs). He started to tell us everything about his country estates where he usually goes to hunt. aggiungere cose dedicate to luxury.
Luckily I did not look bad, among so much elegance. And who should I thank, if not my vest?
Chinchilla fur vest with hood is fabulous I hope one day my boyfriend will buy one for me. If you like chinchilla don't miss this post because it's really useful to understand how much chinchilla fur coat, how to match it, and how to recognize if a chinchilla is good quality and more.
Lady Fur loves fur vests with hoods when she buy one she always ask if is possibile to add a big fur hood.
Where to buy fur vest online?
Favorite fur shops of Lady Fur where you can find many good fur vets are: Furbazaar, Mano Swartz and Bergdorf Goodman
How to wear a fur vest in the office
Office wearing has never been easy, that is true. If you opt for a fur vest, even a boring blouse will appear like brand new. Learn how to wear a fur vest in the office is pretty easy: choose a neutral pair of trousers and a pastel jacket. Don't forget a belt, is really important since the vest is often short. Consider to choose a belt that recall the color of the fur vest.
How to wear a fur vest during the night
It may appear impossible, but the perfect combination for the night if you are wearing a fur vest is a dress. Possibly a red or a gold one, if you like the red, the important thing is that the color of the dress needs to stand out. Don't be afraid to dare: a fur vest during the night will add to your outfit a chic shadow that will make every look posh and swanky.
That is exactly what I opted for the last Eve of the year, and I had a blast, in part thanks to the champagne :), but also because of my WONDERFUL outfit.
Lady Fur loves wear vest with sexy lingerie for special night like in this photos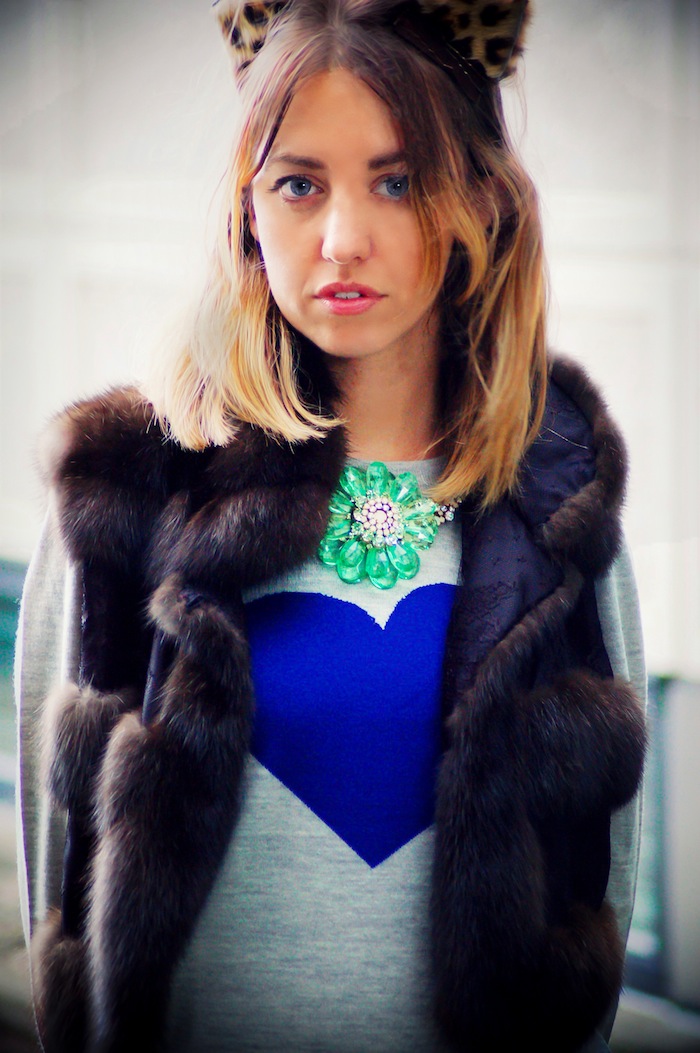 Now that you know how to wear a fur vest during many occasions, don't miss anymore time and go try more outfits 🙂
Welovefur Team
In love with Lady Fur fur outfit? Here you can find them all