90s fashion: 20 years ago we dressed like this, and now the style of those years is coming back, only cleaner.
90s style is officially here: it's the real trend of autumn / winter 2016/2017. And if we glimpsed some reminiscing this summer with high legged one pieces, think Baywatch, this autumn the 90s fashion trend will be in charge.
For the fur sector The 90s were critical and nicknamed: "the eco years".
Naomi Campbell decided to pies naked for Peta and then went on to pose with furs of very well known brands like Gucci and Fendi. (Naomi loves fur). Despite being difficult years for us in the fur sector, I have to admit that I am very happy they have come back because they are some pieces that I have never stopped loving, here is the list: shoes with lights by  
La Gear
 (I am not crazy about Philpp Plein's), the plastic tattoo necklace called choker – there is a gallery below, the famous Dottor Martins (I had Lelly Kelly ones all my classmates made fun of me for the colour: patent red instead of black), coloured hair bands and headbands for hair with Spice Girls hair styles and silver washed jeans with writing at the back.
The plastic tattoo necklace of the nineties: the choker.

To find the right inspiration and understand which of the 90s trends suits us best, let's check out the icons of that decade, the tv series and films that made us dream and the supermodels that incarnated a healthy and timeless beauty ideal.
90s fashion: Beverly Hills 902010 and co.
It was THE tv series of our childhood and adolescence for many of us: Beverly Hills 90210. Brenda, Kelly and Donna were best friends and often spoke of shopping and clothes. A famous episode is one of the first in which Kelly and Donna take the newly arrived Brenda shopping for 90s attire to make her a fully fledged city girl.
Those who are slightly older will remember Bayside School: a comedy for teenagers where youngsters spoke of love and school, on screen from 1989 to1993.
Here we can note some residue from the 80s but some hints for 90s outfit ideas could be useful.
An episode of Bayside School
90s clothes: Jeans and mini jumpers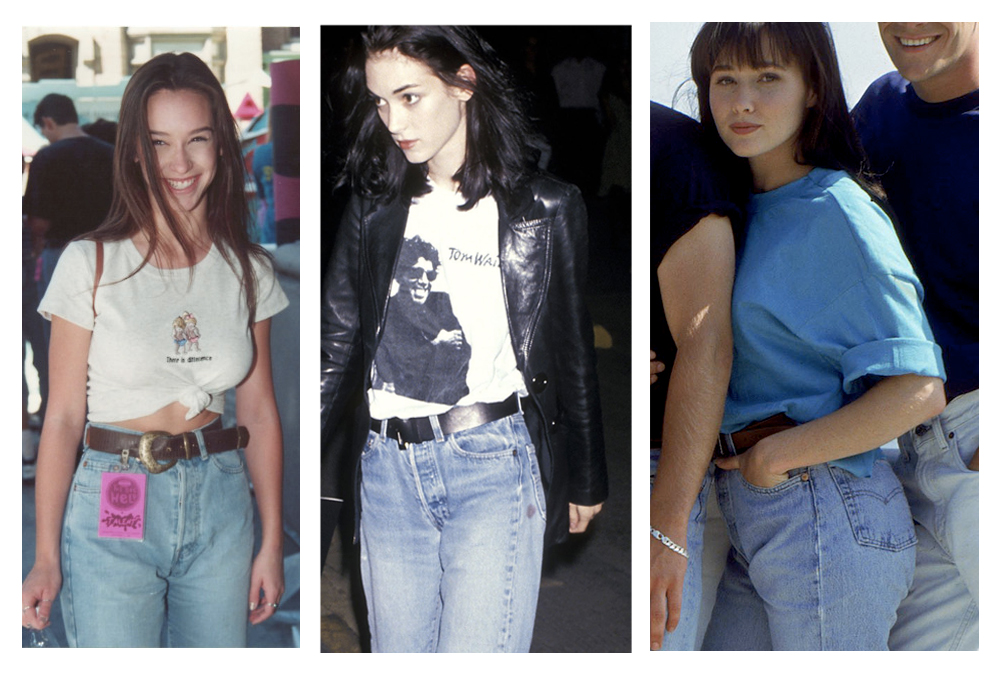 There are many musts of 90s fashion: grunge shirts, baggy 90s jackets, stone washed high waisted mom's jeans, flowery dresses unbuttoned in the front, the must have 90s shoes – the wellington boots, mini jumpers or really baggy jumpers.
Everyone had their own style in the 90s.
An icon like Winona Ryder had a look that was enviable even at that time: androgynous and simple, a mix of 90s fashion men suits, studs, velvet dresses.


Alicia Silverstone instead was more lolita: tartan, short sleeved chenille mini jumpers, winter denim jackets and short skirts.
Drew Barrymore, instead, has always played with mixing the lotita with the more rock style, with a classic 90s makeup: nude eyes, brick red, nearly brown  lips, thick eyebrows.
Then there were the top models, celestial beauties and 90s womens fashion icons. Cindy Crawford, Naomi Campbell, Eva Herzigova and Claudia Schiffer, are just some of the names connected to high fashion in those years.
And the designer labels that most of all tied themselves to those smiling faces and statuesque bodies were Gianni Versace and Moschino.
90s fashion: and Italy?
And in Italy which were the icons? Obviously the girls from Non è la Rai, legendary programme on screen from 1991 al 1995. Did you watch it?
Ambra Angiolini more than any determined some rules of teenage 90s dress: the nylon back pack, the oversize jacket, the polonecks that revealed the stomach with high waist jeans and shirt tied at the waist.
Hairstyles? 90s obviously, Leonine and not too long.
And after all this feast of photos of 90s costume ideas it's time to buy up 90s outfits, don't you think?