Sheikha Mozah fashion photos and tips about how to dress like her
Sheikha Mozah fashion style is completely different from the usual, maybe that's why I love her so much. Sheikha Mozah bint Nasser Al – Missned: "Elegance first comes from inside". First of all because she is a princess, but not just any princess; following Sheikha mozah's wedding to Emiro Hamad bin Khalifa al-Thani as the second of his  three wives, and now mother of the heir to the throne, that makes her practically Queen of Qatar.
But she is also Queen of Qatar fashion. Class of 1959, Sheikha Mozah Bint Nasser Al Missned – that's her full name – really loves fashion very much: Valentino, Jean Paul Gaultier, Chanel, the haute couture designer Stephane Rolland are only some of the houses he prefers: basically it goes without saying he has refined tastes.
How to dress like Sheikha Mozah
The reason why I like Sheikha Mozah Bint Nasser so much is precisely for the refined looks. The Sheikha of Qatar is able to mix traditional middle eastern elements with western clothes with amazing naturalness: kaftans, clothes with straight lines and with three quarter length sleeves are mixed with pieces with structured shoulders and suits that we would all dream of wearing during business meetings.
During every official visit, Sheikha Mozah is immortalized with dream outfits: my favourites without doubt are those with an important point of light and inlays. The queen of Qatar fashion for religious and precision regions doesn't reveal her body much, and it is precisely here that her refined taste intervenes: turbans are coordinated with jackets, flowery dresses and bandage sheath dresses, that elegantly mark her physique, but show very little skin.
Sheikha Mozah's fashion style is different from the rest, basically, that on a web full of girls dressed – or barely dressed – all in the same way,  doesn't do any harm does it?
Dress in Sheikha Mozah fashion style
Here is a gallery with dresses you can try to imitate her most elegant style.

As I was saying, the wife of the Emir of Qatar does not use just ultra feminine clothes: it's not rare to see her wearing tight blaxìzers, capes, coats and trousers with a masculine cut. A woman who knows how to change style according to the occasion, without ever repeating herself: basically Sheikha Mozah is the princess to take inspiration from, and not only as regards fashion.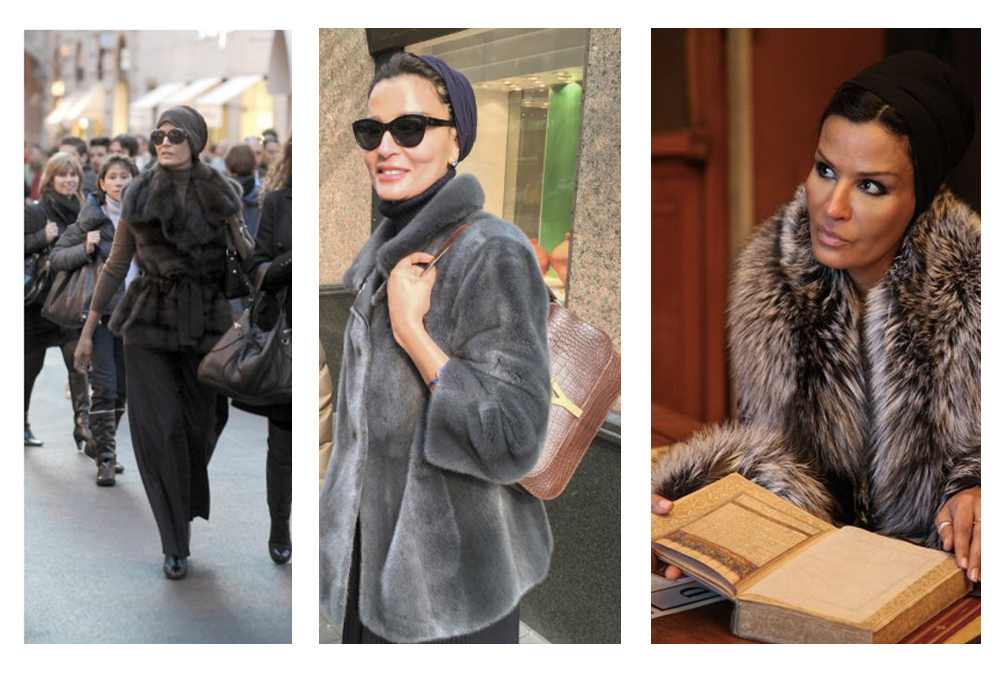 Here are other suggestions to replicate her most business oriented style:

Sheikha Mozah, in fact, covers several very important roles in our country and abroad, fighting in this way against the stereotype that wants Middle Eastern women submissive to their husbands and that's it. Mozah participates actively in the life of her country, so much so that Forbes included her in the list of the 100 most powerful women in the world (she came in 79th place) click here.
The princess of Qatar in fact met the sheikh – then the Crown Prince – when attending the university of Qatar, where she graduated in 1986 despite already having become wife and mother. And since then Doha, the capital of Qatar, has made great strides ahead, modernizing more and more, and precisely Mozah Bint Nasser Al Missned is one of the greatest inspirations for the social and cultural change that has been seen in the country for the last 20 years.
I have always said: intelligent women love fashion, and above all know how to dress well. And if you decide to follow her on instagram you will understand what I mean.

Obvoisly her looks with fur haven't escaped me: Sheikha Mozah can wear important vests and stoles like those in Sheikha mozah's photos below with great naturalness and elegance.
Sheikha Mozah wears a classic and elegant style fur 
Ready to reproduce the Sheikha Mozah fashion looks?
The Sheikha's illustration was taken from a beautiful blog dedicated SheikhaMozaFashion.Tumblr.com