I may seem banal but I believe that leather gloves with fur are the accessory that better than any other enhance the beauty of your hands and the outfit you are wearing
Gloves are erotic, sensual, feminine, ELEGANT. As a real fur lover how could I not love leather gloves with fur? Leather gloves with fur are the perfect match.
Leather gloves with fur add that extra touch to every type of clothing. When it is cold it is essential to protect the delicate skin of the hands from chilblains in a cold winter.
Leather gloves don't just fulfill this practical and functional purpose, at the same time they step up your look a gear, from the most sporty and to the most refined.
Women's leather gloves with fur protect from the cold with style.
The gloves with fur that you see in the photo are in the highest quality leather, lined with cachemire complete in every detail made in Italy.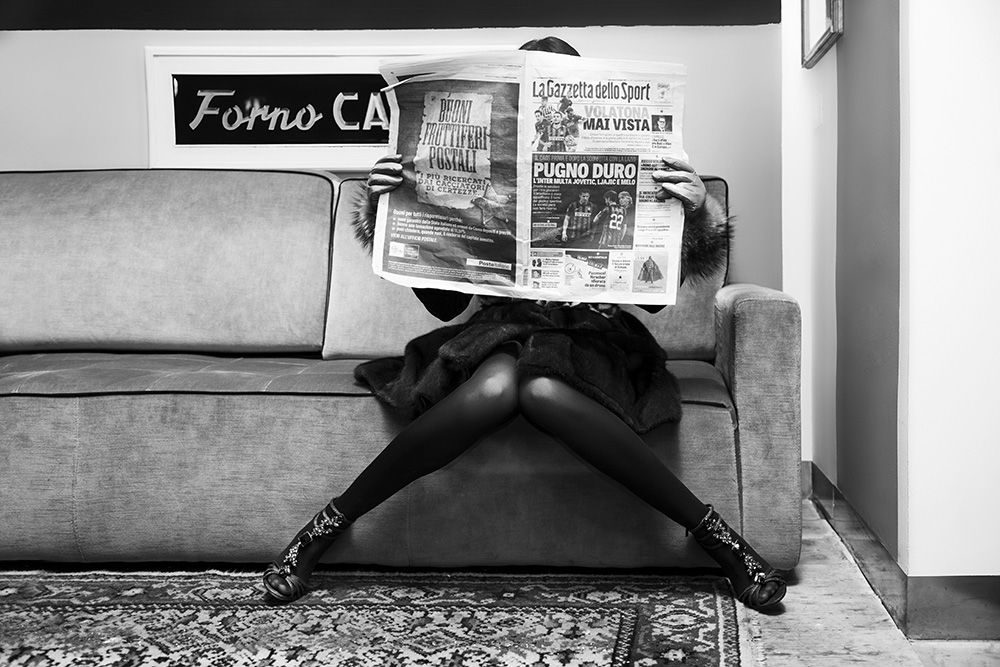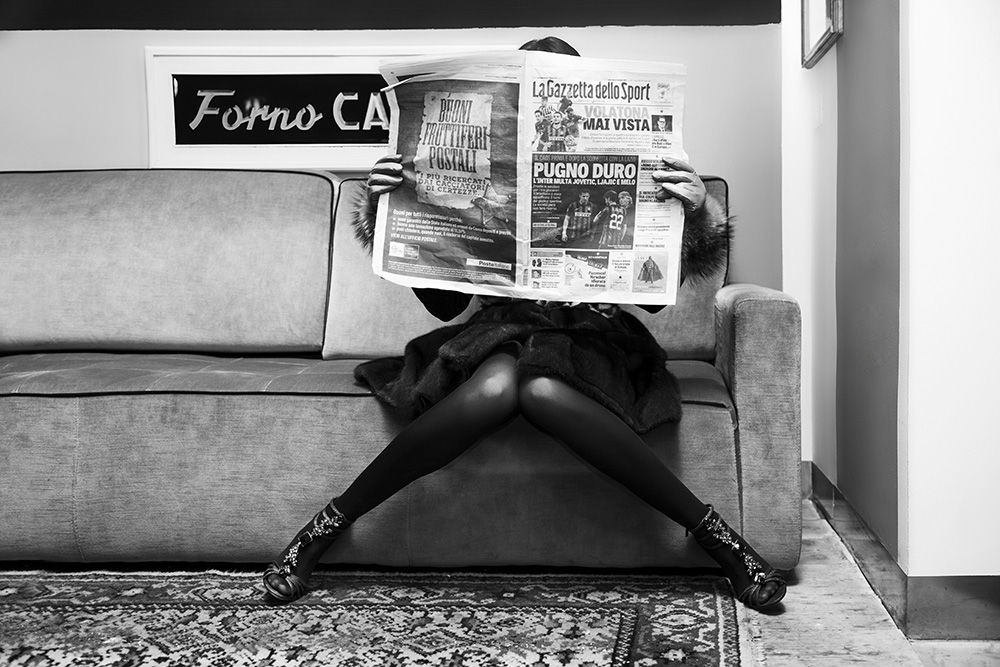 My mother wears leather gloves lined with silk with open fingers when she drives: how chic. But she always has perfect nails not like mine =) (Another objective for 2016 is to stop biting my nails: it is sixth on my long list of objectives. Yesterday I posted the second, have you read it?) even my grandmother never goes out of the house without gloves, scarf and super chic hat.
Leather gloves have a special meaning for me.
You should know that for some years I suffered from panic attacks. A nightmare. From 17 to 22/23 years. Curiously they popped up at the weekends, when I was with my friends on Saturday night. We all ran to the ER. I couldn't breathe. A real nightmare.  My hands were completely ruined.. (Thankfully they stoppped).
One Saturday night at the ER there were loads of people, they had put me in the waiting room despite being really ill. The hospital guard came up to me and gave me his hand. I told me to calm down and with his hands wrapped in a soft pair of gloves started to stroke my face. I grabbed his other hand that was also wrapped in a soft glove and held it close for a while.  I remember it like it was yesterday. I immediately felt protected. I don't know why but wearing leather gloves I get the same feeling as a warm hug, as if the gloves could transmit heat and affection coming from a loved one. Naturally my friends started to laugh thinking that I had a crush on the hospital guard. I still  laugh when I think of it.
For Christmas I gave myself some beautiful leather gloves with fur. I bought them on the Bruno Carlo website, a family run Italian brand of handcrafted gloves, hats, shoes and fur. Go and check it out.  I bought four different models: leather gloves with fox fur border and lined with cachemire, green half length  gloves lined with silk (that you see in the photo in black and white) plus a fur hat and a poncho with a fox bordered hood (SUPER COOL). I think I will also buy these. They cost really little for what they are worth. click here to see the web site
A very romantic legend on gloves.
According to legend, the goddess Venus, one day, while she was running in the wood on Mount Olympus,fell on her hands on a bramble bush and stratched them, so the good graces sewed very thin bands around her hands: and thus gloves were born.
A true but less charming story about gloves
The Barbarians were the first to use them and then spread them all over Europe. Initially they were shaped like a sachet tied to the wrist, the space for the thumb was only added after  to allow gripping, and later the other four fingers were added.
Going back to the photos of the leather gloves with fur that you see in the post, I tried to draw attention to the gloves and the fur. The objective of this shooting was to show how I would wear the gloves with fur and on what occasion and above all the personal relationship I have with gloves.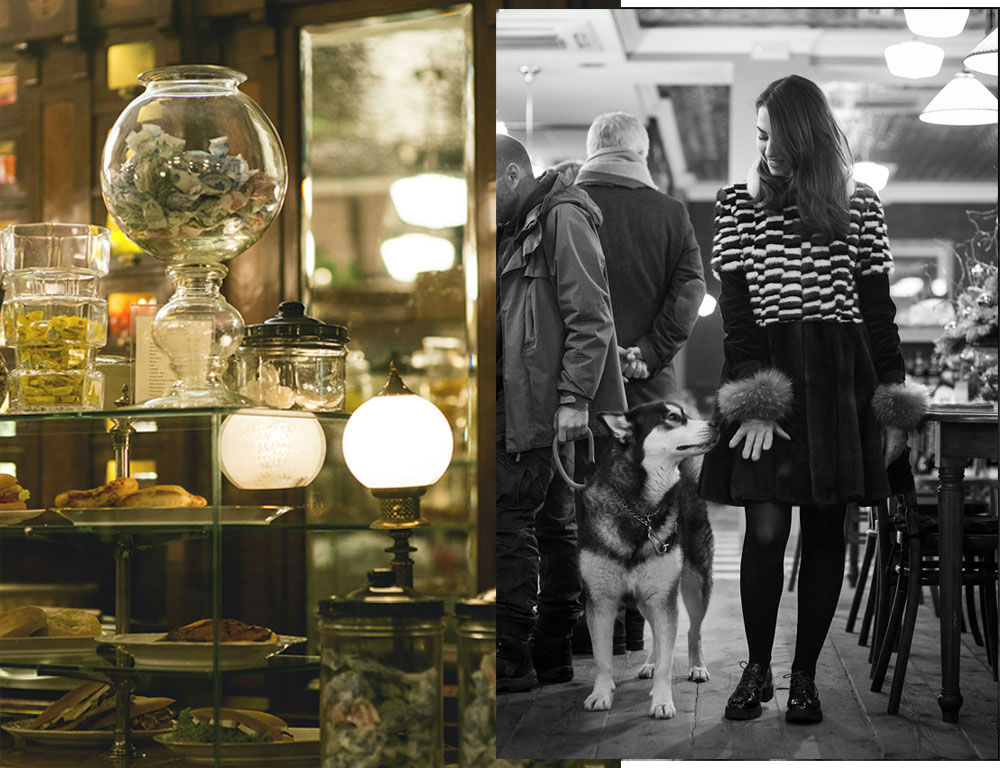 Instead of taking banale blogger style photos, I thought of searching for some inspiring images with the photographer  Rai, (it's the first time I have collaborated with him, he is Indian and he has a white and grey tuft like Morgan) In the photos it is 5.30pm and I am going to sip tea with biscuits at the Premiato Forno, I will also eat there and then go hoe. I am trying to change my way of posting on the blog. I would like to shoot more and more inspirational and researched photos and less street style. I hope you like the idea.
The photos were taken at Premiato Forno, one of my favourite restaurants in Milan. It is furnished with one off peices dug up in vintage markets around Piemonte. You can eat typical Italian cuisine, the meat is delicious. I don't like minimal, modern, ostentatious restaurants, rudely reinterpreted, refined style. I love researched restaurants that pay attention to detail, where you can breathe a special atmosphere, where everything you touch has a story. Thanks to Alessandro and Gian Luca the two owners for having allowed me to take photos.
The brand of gloves as I wrote above is Bruno Carlo an Italian brand founded in 1970. If you go to their site there is a photo of the whole Bruno Carlo family,and you can see the photos of the laboratory where they make women's leather gloves. You can buy them online or simply look at the various collections they propose.
The funny thing is that I discovered Bruno Carlo thanks to a Russian friend of mine who buys gloves in Moscow from Tsum, one of the most important and influential department stores in Russia. Jana my friend started to ask me "BUT HAVEN'T YOU GOT ANY LEATHER GLOVES WITH FUR?" She buys and buys and buys gloves like a machine…from her phone, in her car. On the motorway between Monte Carlo and Milan I bought gloves. Yes because amazingly Bruno Carlo has a super innovative very well developed site. I really have to congratulate them. I hope they will read this post.
The fur and leather world is light years behind on the web and if I had to give a prize for site of the year for those in my sector that sell leather gloves online or sell fur online, well I would definitely give it to them.
In the photo I am wearing my favourite fur by Vladimiro Gioia. I also wore it during the NYCFW and thousands of other times. I am sure that the stylist made this fur thinking of me even if he doesn't want to admit it. I AM JOKING =)=). The elegance of this fur is indefinable.
The shoes are by Daniela Gonzalez is an extreme luxury brand. This is also a Christmas present, unwrapped well in advance. I have the bad habit of opening presents early. My grandmother instead, lovely lady, unwraps the presents, looks at the gift, then wraps them up again just as before, sometimes even better and on the 24th at midnight she pretends to be surprised with the gift. But what could it be? But who knows what it is? She knows perfectly well.
I didn't give her leather gloves with fur, or a scarf but  a new IMac because the one she had been using for three years, a Mac mini, had become too slow for her taste.
As you know my grandmother works half a day with me atm y blog. She helps me to write posts, uses bloglovin, twitter and when I mess up she helps me with the accounts.
I hope this post is not too long and that you have read it all. I am in Doha for a really cool project that I can't reveal until I publish it.
Your
Lady Fur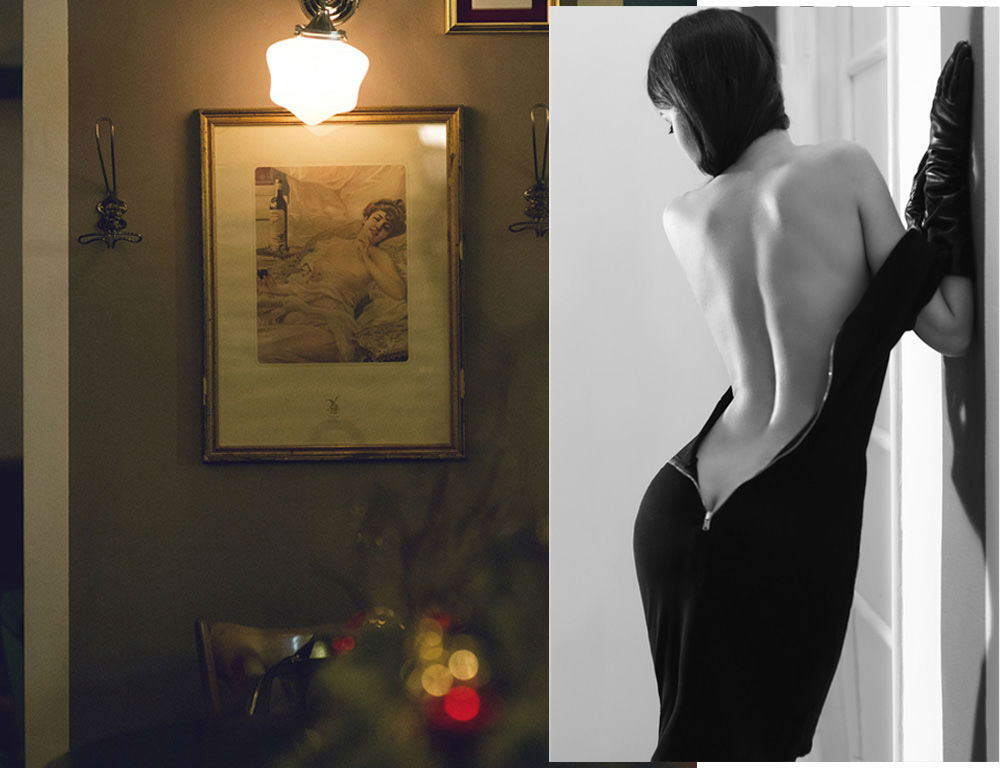 If you like my style look this category: MY LUXURY OUTFIT
Watch my video 
Where to buy furs in NYC or Paris don't miss my latest post.