Dear Fur Lovers
I had an apprehensive feeling before starting my adventure to the fur exhibition in Kastoria. Above all, the voyage had me worried.
A 2 hour flight, driving a rental car for 2 hours on poorly lit roads, full of potholes and without my tried and true tomtom.
But it wasn't the time to get worried: the friendliness of the people I met on the road helped me easily get to my hotel.
Once I arrived in Kastoria, I was surprised yet again: this time by the amazing beauty of the place.
A huge lake with a shore full of gorgeous flowers in bloom and completely surrounded by lovely hills and mountains.
Walking through the streets of this city full of beautiful fur shops, I felt like I was truly in FUR TOWN. Another aspect that struck me was the strong rooted tradition of the inhabitants in passing down the fur trade from father to son.
Every store had two signs: up high there was the name of the family and below there was the brand name. One can see signs of the economic crisis in Kastoria but the hard work and dedication of the local merchants and artisans will surely spawn a new boom in the economy. The fur exhibition was set up in a perfect way. Even my stand, which although small was located in a strategic position and was very nice.
Another resource of Kastoria is surely tourism. The beautiful lake and its white pelicans, the lack of pollution and food that is 100% organic (many of the locals are organic farmers) will also contribute to revitalization of the local economy.
The very mild climate let me wear a beautiful white sangallo suit with the top studded with glittering stones. The scenery of a wall of red roses provided the perfect backdrop for my photo shoot.Too bad that there were hundreds of buzzing bees, which scared me and made me want to run away. Finally a marvellous tree full of white flowers allowed us to take some truly beautiful photos.
Miao Miao
Lady Fur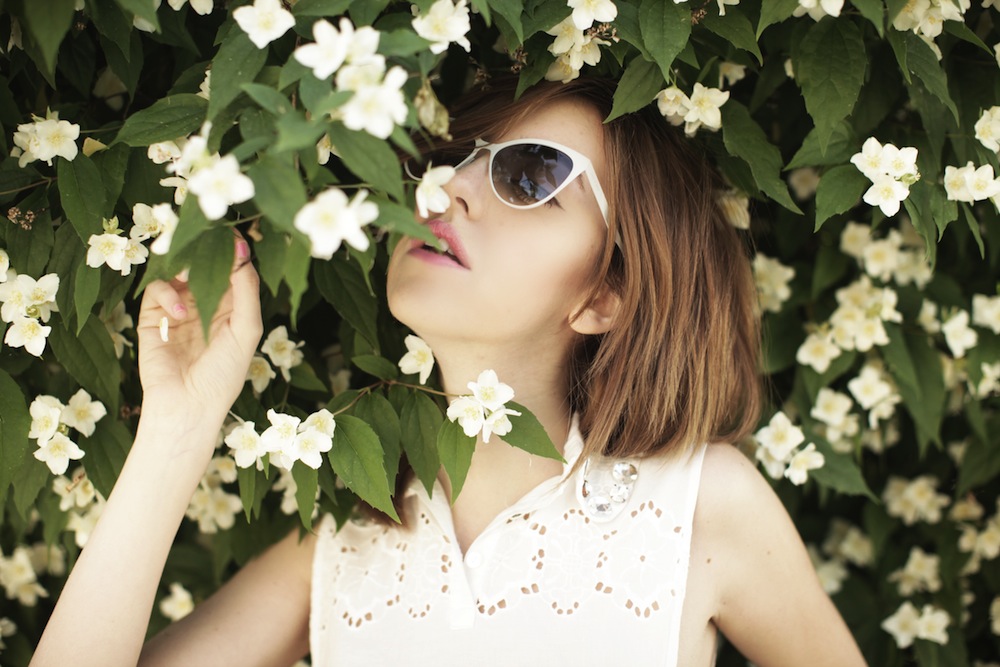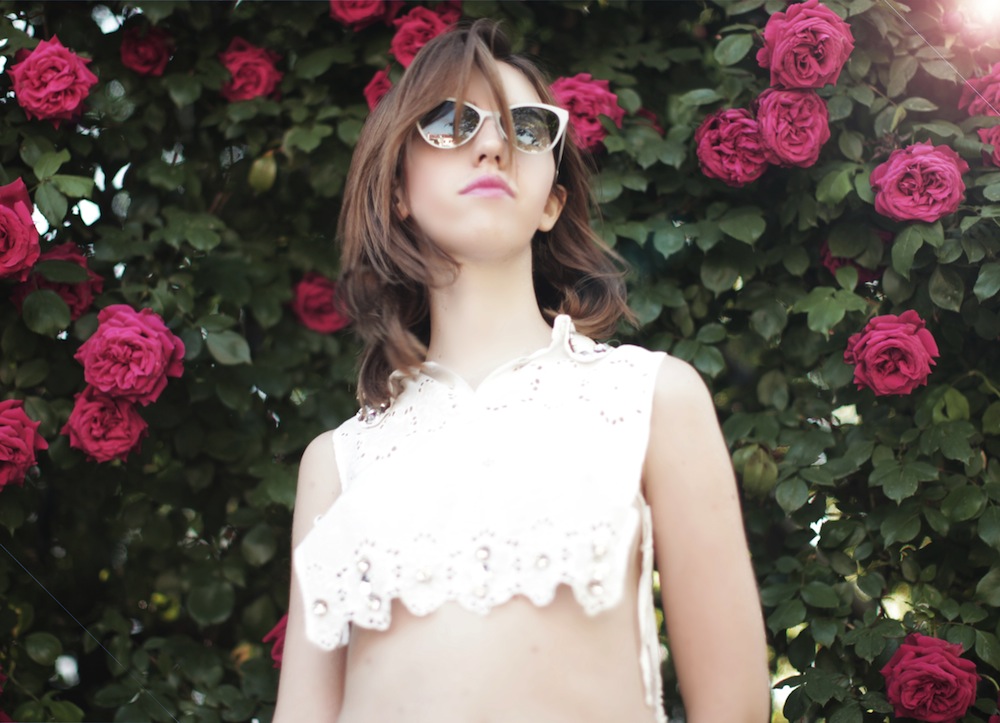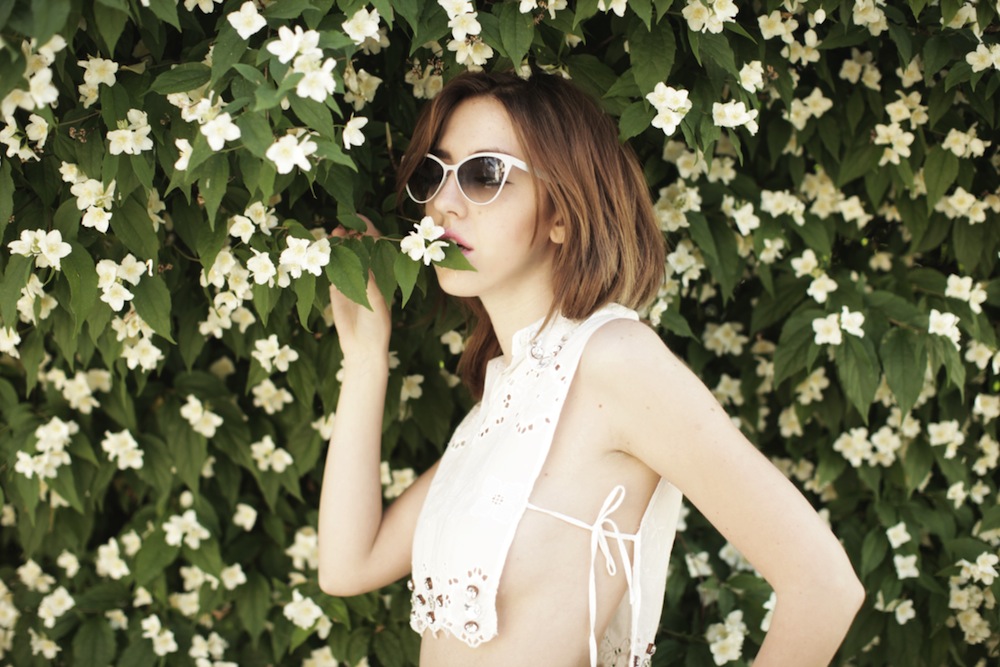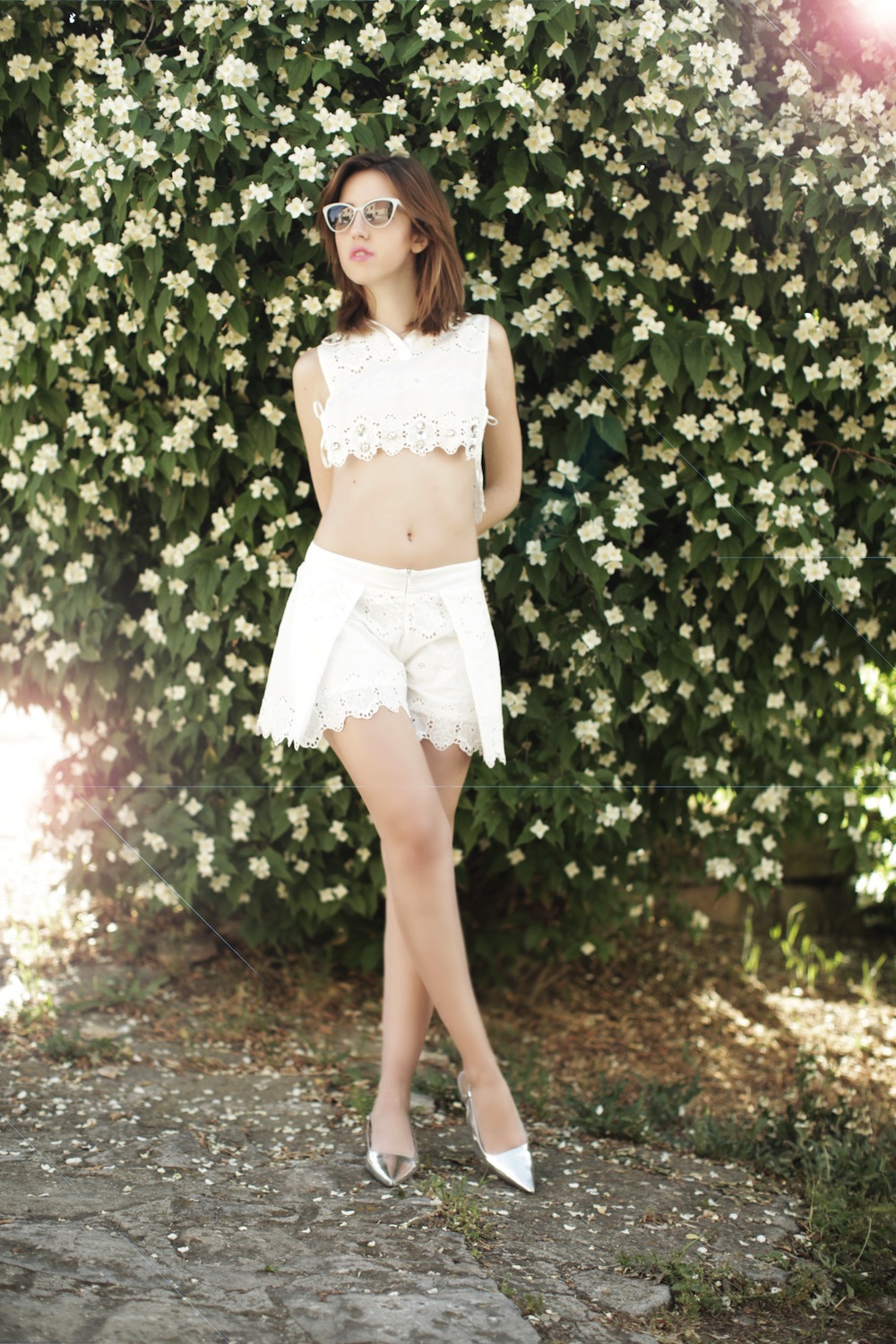 Outfit : Alcoolique
Sunglasses : Italia Independent
Photo : Antonio Veracini
Location: Kastoria