80s Fashion: a way to be eccentric, unusual and colourful
80s Fashion has left behind an enormous heritage to contemporary fashion: fur becomes colourful, garments pick up the crumbs of the 80s style, glam rock, and the shapes are always more exaggerated.
A sort of 80s style from the music industry, is the most influential, with icons like David Bowie, with his uncategorised looks from the last decade. Lurex, excess, epaulettes and volumes.
80s outfits, specially the dresses became shorter, one-shoulder, with ruffles, metallic finishes, plunging necklines. 80s hairstyles, on the other hand became spongy, with a lot of movement. Hairspray was used a lot to control these lion crests.
If you have decided to follow the 80s trend for this autumn-winter season 2016/2017 , you need to be daring.
No measures nor limitations.
The 2016/2017 runway show that was the most representative of this 80s trend was the Saint Laurent one, where determined and fearless rockers walked down a staircase in tight clothing.

Fur coats weren't left behind:  pointed epaulettes, heart shapes ones like those from Saint Laurent and colours that were at the same time excessive and irresistible, for example this Saks Potts model.

Are you ready to have fun with the fur coats in different colors?
The powerful tri-color mink bolero by Liska and the stripped version by Shrimps on the Nordstrom site.

80s dresses and accessories: how to follow the trend
As in all the decades, the 80s style has two sides: one all the glam rock, glossy looks related to the musical worlds, and on the other hand more casual looks, like suits, trousers, skirts and over-sized shapes.
But here we will concentrate on the excess of the 80s outfits, because in fashion you must always have fun, and nobody ever had as much fun as in that period. Stars like Lady Gaga and Rihanna know this pretty well, so much that they made this 80s style public in many occasions.
Do you prefer the fucsia touch of  Hervé Léger, with a covered back or Reinaldo Lorenço's shimmering dress?

To sum up, with the 80s trend you must not fear to put on too many elements, colours nor textures.
Look at this example, an image of a brand such as Chanel changed in that period. Linda Evangelista, in the right image looks incredible!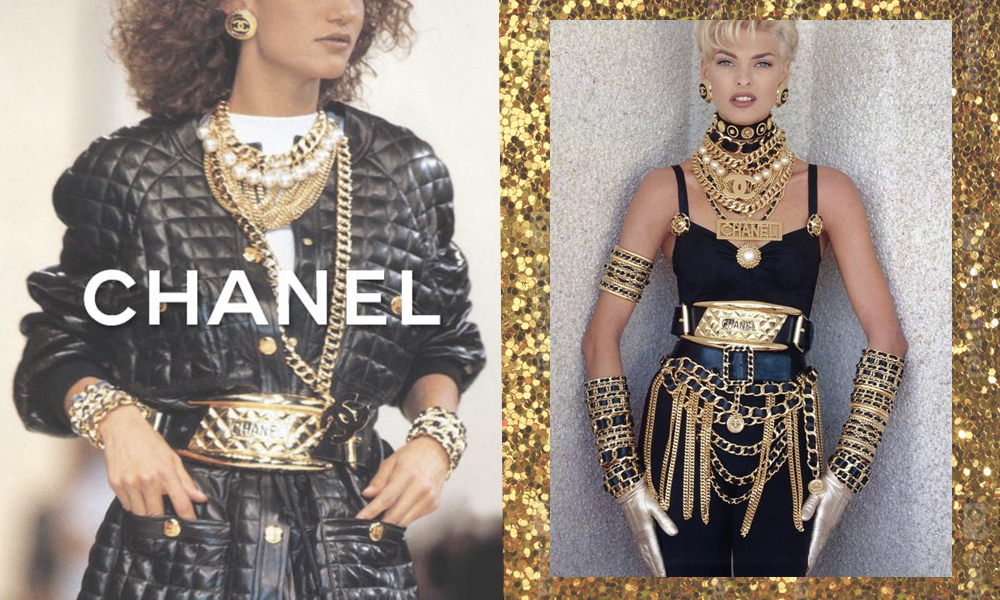 And what better than a vintage Chanel heart shaped bag to bring back those years?

80s fashion: 6 looks to copy
And we will keep on playing: the shape of the bags from the 80s speaks clearly, just like the shoes, metallic boots and laced ankle boots.
Try to recreate a look using 3 elements at a time. A mix of fur, metals and fun shapes, that will go perfectly in an 80s style outfit.
Look

Look

Look

Look

Look

Look
What 80s outfit suits you the most?
Leave a comment and let me know!